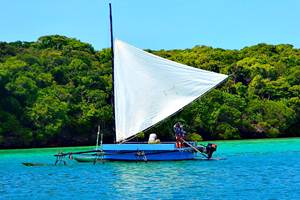 Discover the Island of Pines with Mana Nautique and their excursions ... Boat, canoe, shuttle ... Trust Mana Nautique and Pines Island will have no more secrets for you.

Mana Nautique, it's above all a family affair. It all starts in 2009 when Nouka with his mom had the idea to offer tourists a trip to the Nokanhui atoll. At that time, Nouka used to propose this tour 3 times a week. He then used to drive the only boat that he owns and his mom used to prepare meals to the delight of visitors.

Now these tours are conducted every day of the week and Nouka welcomes nearly 4,000 visitors a year. Sitting comfortably on board of one of the three boats and/or one of three buses that now make the company's fleet, you will discover "the closest island to paradise."

For 7 years, Nuka was mainly devoted to its flagship Safari nautical excursion but recently, and for the pleasure of all, new tours were created (Island tour by minibus, pirogue ride on Upi Bay) for you to discover the Pines Island in its entirety.

Mana Nautique, it is also 10 people who occupy different positions necessary for the successful completion of the excursion (drivers, cookers, animators, guides ...) so that you can relax and enjoy this unique moment.

The strength of this company is to be a human-sized company with employees who for some work since the beginning of this great adventure. All these aspects make Mana Nautique a friendly, family business.

So do not wait!